---
Visit our sister
GSA/UK organization:

---
Designed by V.M.S.
© 2004-2022
All Rights Reserved
Welcome!
You are global visitor
---
IN MEMORY OF DR. PAUL KENNEDY
THE PAUL KENNEDY AWARD
The Global Studies Association of North America is proud to present Senior Researcher Marek Hrubec of the Centre of Global Studies Institute of Philosophy, Czech Academy of Sciences with the Paul Kennedy Award for outstanding contributions in research, and for the promotion of exchanges among international scholars of global studies. His participation and co-organization in our annual conferences, beginning in 2007, established a cooperative relationship between our membership and the Czech Academy of Sciences, particularly the Institute of Philosophy, with many exchanges between the Centre of Global Studies and the GSA. Furthermore, his theoretical and research papers published in our annual journal were of the highest academic standard, and played an important role in establishing the journal's reputation for quality and respect among scholars working in the field of global analysis.
---
UCI Department of Global and International Studies
UCI Global Scholars Early Career Fellowship
Early career scholars who are doing critical interdisciplinary research on pressing global issues are encouraged to apply for a fellowship to attend the 3rd Annual UCI Global Studies Conference. The conference will be held January 21-22, 2022 and will be hosted by the Department of Global & International Studies at the University of California, Irvine.
Mindful of the continuing pandemic, the carbon footprint of international travel, and longstanding challenges for scholars from the global south to obtain visas and resources for international travel, the conference will be held with a hybrid format, including in-person activities for those who can be present and remote/virtual platforms for participation by those who cannot join us in person.
---
NEW BOOKS:
NEW BOOKS:
Africa in a Multilateral World: Afropolitan Dilemmas
By Albert Kasanda and Marek Hrubec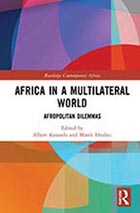 ---
Paramilitary Groups and the State under Globalization
Edited By Jasmin Hristov, Jeb Sprague, Aaron Tauss