---
Visit our sister
GSA/UK organization:

---
Designed by V.M.S.
© 2004-2018
All Rights Reserved
Welcome!
You are global visitor
Globalization, Race, and the New Nationalism
Seventeenth Annual Global Studies Association of North America Conference
June 6 - 8, 2018

The GSA would like to thank everyone who participated in this year's conference at Howard University in Washington, DC for making the event a huge success. We hope to see you all at future events.

For those of you who presented a paper or study, you now have the opportunity to be included in our next special issue of Perspectives on Global Development and Technology (published by Brill Publishers in 2019).

All complete papers must be submitted in a Word document to Jerry Harris at gharris234@comcast.net by August 1, 2018.

Please follow the instructions >> GSA Style Guide
---
Summer Workshop
Contemplative Environmental Practice Retreat for Educators and Activists
Lama Foundation, San Cristobal, New Mexico
July 24-30, 2018
This summer, deepen your commitment to environmental education and action. Contemplative
Environmental Practice is a week-long workshop for educators and activists that explores how reflective
practices—such as meditation, yoga, journal writing, art, and nature walks—can enhance our teaching and
advocacy efforts.
---
Call for Abstracts
The Future of Globalization Conference
Beijing, September 2019 (Friday to Sunday; the exact dates will be specified according to the time possibilities of CASS)
Organized by The Network for Critical Studies of Global Capitalism, in cooperation with the Institute of Philosophy at the Chinese Academy of Social Sciences, Beijing
Abstract Deadline: August 1st, 2018 (one year in advance)
You can write a provisionary abstract, and reformulate it later. Even if you are not sure that you can attend the conference, it is better to send an abstract because all abstracts have to be formally approved in Beijing, and it would be too late to do it next year.
Abstract should be about 200 words, including your names, your institution, email address, and an abstract itself.
Theme: "The Future of Globalization"
Globalization is facing a pivotal moment in history. Since the economic crisis of 2008 it has faced serious turbulence, challenged for its vast economic and social problems, as well as its environmental destruction. New political movements have appeared to displace or upset long-ruling traditional parties in the West. And women, constituting a large sector of the new labor force for global manufacturing, continue to struggle for an equal place at home and in society. Traditional Western globalists have offered no strategy except to continue their failing model of development. But new roads have emerged that propose radically different possibilities. "The Future of Globalization" will analyze and debate various models of globalization and its alternatives.
In Memoriam:
William (Bill) Pelz
(1951-2017)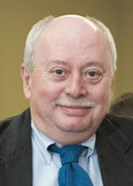 The GSA is saddened to report on the passing of our good friend and colleague, Bill Pelz.
---
NEW BOOK:
Giants: The Global Power Elite
By Peter Phillips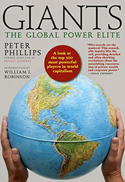 ---
RESOURCES:
WWW Virtual Library: International Affairs Resources