New from
Bullfrog Films:
---
New Books:
Financial Elites and Transnational Business: Who Rules the World?
Edited by Georgina Murray and John Scott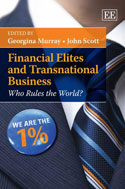 Global Shift, Sixth Edition: Mapping the Changing Contours of the World Economy
By Peter Dicken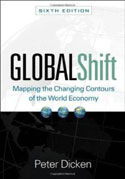 ---
Visit our sister GSA/UK organization:

Designed by V.M.S.
© 2004-2013
All Rights Reserved
Welcome! You are global visitor
Update: May 18, 2013
CALL FOR PAPERS: GSA North America 2013 Conference
---
CALL FOR PAPERS: GSA/UK 2013 Conference
The Cosmopolitan Ideal: Challenges and Opportunities
Roehampton University
July 10–12, 2013
Confirmed keynote speakers include Gerard Delanty (University of Sussex) and Kate Nash
(Goldsmith's College, University of London).
The conference aims to critically interrogate the idea of cosmopolitanism. Whereas previously cosmopolitanism was associated with (abstract) ideas of world citizenship and universal brotherhood, more recent constructions emphasize the multiplicity of identities, belongings, and memberships that are possible across a plurality of communities. In addition to a rejection of a narrow nationalistic outlook cosmopolitanism can claim a new political content: the idea of world citizenship has been given substance through notions of environmental responsibility, the universality of human and personhood rights, and the drive for worldwide human development. For these and many other reasons cosmopolitanism provides an important perspective on processes of globalization and the interconnectedness of the world.
The conference organizers invite proposals for papers which address themes of relevance to the conference, including:
• The politics of cosmopolitanism
• Cosmopolitanism, global civil society and human rights
• Cosmopolitanism and identity
• The cosmopolitan city
• Cosmopolitan business practices and cross-cultural management
• Critical cosmopolitanism
• Cosmopolitan theory in global studies
• Cosmopolitanism and the media
Proposals for papers should take the form of a 300-word abstract and may be submitted on any aspect of the conference theme. The organisers will allocate papers to an appropriate panel. The deadline for submission of abstracts is April 30 2013. Please send to conference organizer Darren O'Byrne at D.OByrne@roehampton.ac.uk.

Conference registration: Full registration £175 (includes accommodation, lunch and other refreshments, and conference fee). Discounted student registration £150. Conference dinner £40 extra for all delegates. Registration includes automatic GSA membership.

Register for the conference now at:

http://estore.roehampton.ac.uk/browse/product.asp?catid=92&modid=2&compid=1
---
CALL FOR PAPERS: Network for the Critical Study of Global Capitalism 2013 Conference
Global Capitalism in Asia and Oceania
Sponsored by WOW Research Centre, the School of Humanities; the Arts, Education and Law Group, Griffith University
Griffith University | The Ship Inn Conference Centre
Corner Stanley & Sidon Streets
Southbank Parklands, Brisbane, Australia
June 28-29, 2013
PRINT THE CONFERENCE FLYER
Outside of Asia, much is made of 'the Asian Century', the 'rise of Asia', the economic potential of Asian markets, regional trade agreements with Asia, and building 'Asia-relevant' capabilities to support all these. Such instrumental views are shaping the ideological landscape of many parts of the 'West'. For those from within and outside Asia who are interested in critical studies of global capitalism other topics are much more pressing. These include the different models and manifestations of global capitalism that are being adopted across Asia, as well as the links between such models and ongoing political developments in the region. Questions arise about the implications of newly energized "Asian capitalism" for current economic and social relationships— about current forms of economic division and exploitation, increasing social polarization and state based authoritarianism. Related questions also come up about oppositional activist practices that are arising and contemporary modes of policing such dissent. The purpose of this conference is to focus critical studies of global capitalism on Asia, Australia, and the Oceania region, to provide opportunities for interested scholars and activists to explore related issues.
Workshops Topics that we invite abstract/paper submissions for:
The transnational capitalist class in Asia, Australia, and Oceania.
The so-called Asian century; potential winners and losers.
Diverse forms of neo-liberalism in Asia.
Transnational capital and the state.
State repression and militarization.
Financialisation and tax havens.
The political economies of international education
Global corporate networks intersecting with Asia and Australia.
Capitalism, class and power relations in these regions.
Workers in the Asia and global assembly lines.
Social and political movements, protest and activisms.
---
KEYNOTE SPEAKERS:
Dr. Han Dongyun is academic editor of the journal International Critical Thought, Chinese Academy of Social Sciences, Beijing.
Jerry Harris is a founding member of the Network for the Critical Studies of Global Capitalism and on its international coordinating committee. He is author of The Dialectics of Globalization, and along with Carl Davidson author of CyberRadicalism: A New Left for a Global Age. Mr. Harris is also a founding member and secretary of the Global Studies Association of North America.
Kanishka Jayasuriya is Professor of International Politics and Director of the Indo-Pacific Governance Research Centre (IPGRC), University of Adelaide. Prior to this he was Principal Senior Research Fellow at the Asia Research Centre (ARC), Murdoch University. He has held teaching and research appointments in several Australian and overseas universities including the ANU, the University of Sydney, Murdoch University , National University of Singapore, and City University of Hong Kong. Read more >>
---
Abstract Submission Deadline: Submissions of abstracts should include a 100-word abstract and a brief biographical statement for each participant by April 30, 2013 to Jerry Harris at gharris234@comcast.net.
Paper Submission Deadline: Papers must be submitted by May 30, 2013 to Emily Kersing at Emily.Kersing@monash.edu. Papers will be circulated within the workshop group with an aim towards publication.
| | |
| --- | --- |
| FULL REGISTRATION | |
| STUDENT/UNWAGED REGISTRATION | |
---
INFORMATION FOR ATTENDEES:
Venue
Venue for the conference is the Ship Inn Function Room, Griffith University's South Bank Campus, Building S06, Corner of Stanley & Sidon Streets, South Bank Q 4101.
Daily break out sessions will be held in the Webb Centre (S02) and Griffith Graduate Centre (S07) at South Bank (both are next to the Ship Inn).
Campus location information: South Bank Campus Map (PDF 286kb)
Travel
The Ship Inn is located approximately 30 minutes by train or taxi from the Domestic Airport.
Taxis can be booked through Yellow Cabs (Phone: 13 19 24), Black and White Cabs (Phone: 13 10 08) or Taxis Australia (Phone: 13 22 27).
Airtrain services both the International and Domestic Airports, traveling outbound through Eagle Junction, Bowen Hills, Fortitude Valley, Central (Republic Apartments), Roma Street, South Brisbane (Rydges) and South Bank stations (Mantra South Bank, Conference venue, Hillcrest Central Apartments – an approx. 1 km walk).
Local train and bus services are handy to Griffith's South Bank campus. Visit Translink's website for timetable information.
South Bank campus parking is strictly limited to University vehicles and emergency services. Nearby South Bank Parklands Underground Carpark has more than 800 spaces, although fees do apply.
Accommodation
Alternative accommodation, including budget and hostel type rooms can also be sourced at www.wotif.com and www.somewheretostay.com.au.
What's on at South Bank Parklands - click here.
PRINT THE CONFERENCE FLYER
---
Conference Organizing Committee: William I. Robinson, Jeb Sprague, (Univ. California Santa Barbara), Jason Struna (Univ. Calif. Riverside), Jerry Harris (DeVry University), Leslie Sklair (LSE), William K. Carroll (University of Victoria) Jane Kenway (Monash University), Anthony van Fossen, David Peetz & Georgina Murray (Griffith University).
---
MORE CONFERENCES AND CALLS FOR PAPERS
SEMINAR ON SOCIALIST RENEWAL AND THE CAPITALIST CRISIS
A Cuban-North American Exchange
June 16-30, 2013
Havana, Cuba
PART I: SOCIALIST RENEWAL
A. Cuba's Economic Reforms
Need for Reform: Problems in Cuban Society
Building a New Consensus
The Reform Program
Obstacles to Reform
Outcomes?
A New Model for Socialism?: Theory of Socialism
B. Latin America Moves Left
21st Century Socialism
Protagonism and Participation
Endogenous Development
Solidarity Economy
ALBA
PART II: GLOBAL CAPITALIST CRISIS
Overaccumulation Crisis and Stagnation
Corporate Globalization
Financialization
Exhaustion of Neoliberalism
Austerity Fix
Class Power and Growing Inequality
Political Crisis
Global Ecological Crisis
Popular Fight Back
Strategic Alternatives
CALL FOR PRESENTERS AND COMMENTATORS: Bi-national dialog is encouraged. Submit a brief abstract of your proposed presentation by April 2, 2013 to cuba@globaljusticecenter.org.
PRE-SEMINAR ACTIVITIES: Various group activities prior to the June 24-28 Seminar will include visits to cooperatives, urban gardens, community development projects, social research centers, and educational and medical institutions. These will involve people-to-people contact.
COST: Estimated cost for the entire program, June 16 through 30, 2013 is $1500 plus airfare. This includes 14 nights in a shared room in Hotel Vedado with breakfast, translation, transportation and group activities.
LICENSE: The U.S. government severely restricts travel to Cuba except by license from the US Treasury Department. Professionals doing research in Cuba can go legally under a General License for Research. Others can travel under our license for people-to-people educational exchange.
ORGANIZATION: Center for Global Justice (a project of Radical Philosophy Association), and Facultad de Filosofia e Historia, Universidad de la Habana, Instituto de Filosofia, and Sociedad Cubana de Investigaciones Filosoficas.

ENDORSERS: Cliff DuRand, David Schweickart, Harry Targ, Leo Panitch, Victor Wallis, Milton Fisk, Ed D'Angelo, Ofelia Schutte, Al Campbell, Carl Davidson, Betsy Bowman, Bob Stone, Bertell Ollman, Michael Lebowitz, Lisa Brock, Frank Thompson, Isaac Saney, Arnold August.
For further information contact cuba@globaljusticecenter.org.
---
GEOGRAPHIES OF LABOR: 35th Annual North American Labor History Conference
October 24-26, 2013
Wayne State University, Detroit, Michigan
The Program Committee of the North American Labor History Conference invites proposals for sessions, papers, and roundtables on "Geographies of Labor" for our thirty-fifth annual meeting.
Over the last several centuries, transformations in technology and in economic, social, political, and cultural practices have created new spatial regimes within and across geographic boundaries. Whether negotiating the changes around them or taking advantage of new possibilities to shape alternatives, workers have been central to remapping this emergent environment.
Inspired by the "spatial turn" in the social sciences, this conference will explore the myriad ways in which workers have interacted with a variety of geographic categories. We welcome projects that seek to understand these interactions through a number of lenses, including, but not limited to: empire, globalization, uneven development, mobility, and migration/immigration at the transnational, national and/or local level. We invite proposals from a wide variety of disciplines, especially history, geography, sociology, anthropology, economics, political science, and cultural studies.
Submissions of proposals for papers, panels, and roundtables should include a one paragraph abstract and a brief biographical statement per each participant by March 29, 2013 to:
Professor Francis Shor, Coordinator
North American Labor History Conference
Department of History
Wayne State University
3157 Faculty Administration Building
Detroit, MI 48202
Phone: 313-577-9325; Fax: 313-577-6987
Email: nalhc@wayne.edu
---
PREVIOUS GSA NORTH AMERICA CONFERENCES
LOCATION:
University of Victoria, Victoria, British Columbia
DATE:
May 4-6, 2012
TITLE:
Dystopia and Global Rebellion
DOWNLOAD:
Conference Abstracts

---

LOCATION:
Loyola University, Chicago, IL
DATE:
May 20-22, 2011
TITLE:
The Global Crisis: Through the Lens of Class, Race and Gender
DOWNLOAD:
Conference Abstracts

---

LOCATION:
University of Illinois, Urbana-Champaign, Illinois
DATE:
May 7 - 9, 2010
TITLE:
Global Crises and Beyond
DOWNLOAD:
Conference Abstracts

---

LOCATION:
Florida Atlantic University, Boca Raton, Florida
DATE:
May 8 - 10, 2009
TITLE:
Globalization and the Struggle for Peace and Human Rights
DOWNLOAD:
Conference Abstracts
ORDER BOOK:
Perspectives on Global Development and Technology Special Issue: The Global Struggle for Human Rights

---

LOCATION:
Pace University, New York City, New York
DATE:
June 6 - 8, 2008
TITLE:
The Nation in the Global Era: Nationalism and Globalization in Conflict and Transition
DOWNLOAD:
Conference Abstracts
ORDER BOOK:
The Nation in the Global Era Conference Documents

---

LOCATION:
University of California - Irvine, California
DATE:
May 17 - 20, 2007
TITLE:
The Contested Terrains of Globalization
DOWNLOAD:
Conference Abstracts
Conference Poster (11" x 17")
Conference Poster (8.5" x 13")
ORDER BOOK:
Contested Terrains of Globalization Conference Documents

---

LOCATION:
DePaul University, Chicago, Illinois
DATE:
May 12 - 14, 2006
TITLE:
Alternative Globalizations
DOWNLOAD:
Conference Abstracts
ORDER BOOK:
Alternative Globalizations Conference Documents

---

LOCATION:
University of Tennessee - Knoxville, Tennessee
DATE:
May 13 - 15, 2005
TITLE:
Crosscurrents of Global Social Justice: Class, Gender and Race
DOWNLOAD:
Conference Abstracts
Conference Poster (PDF, 993 KB)

---

LOCATION:
Brandeis University, Waltham, Massachusetts
DATE:
April 23 - 25, 2004
TITLE:
Globalization, Empire and Resistance
DOWNLOAD:
Conference Abstracts

In 2004 Brandeis University hosted the third North American GSA conference on Globalization, Empire and Resistance. It was a progressive conference embracing a variety of critical, and radical perspectives on globalization. Many leading scholars from all over the world explored the many effects of globalization-as well as alternative visions. Featured speakers included:

Seymour Melman - One of America's most respected scholars on capitalism and U.S. militarism from Columbia University spoke on "The Permanent War Economy".



Leo Panitch - Canada Research Chair in Comparative Political Economy at York University, Toronto, co-editor of the Socialist Register, and co-author of Global Capitalism and American Empire spoke on "Global Capitalism and American Empire".



Sam Gindin - Packer visiting Chair in Social Justice at York University, Toronto, former head of research and assistant to the President, Canadian Auto Workers' Union, and co-author of Global Capitalism and American Empire spoke on "Labor Resistance in the Era of Globalization".



William Tabb - Professor of economics at Queens College, New York, Monthly Review contributor and author of "The Amoral Elephant" spoke on "The Global State and Economic Institutions".



Jose Maria Sison - Former senior research fellow and professor at the University of the Philippines, co-founder of the Communist Party of the Philippines spoke via video satellite from Holland on "War, Imperialism, and Resistance from Below".



Leslie Sklair - From the London School of Economics, and author of "The Transnational Capitalist Class" spoke on "Globalization, Imperialism and the International System".



Edna Bonacich - Professor of sociology at the University of California, San Diego, and co-author of "Behind the Label: Inequality in the Los Angeles Apparel Industry" spoke on "Labor, Immigration and Global Production".

---

LOCATION:
University of California - Santa Barabara, California
DATE:
May 1 - 4, 2003
TITLE:
Towards a Critical Globalization Studies: Continued Debates, New Directions, and Neglected Topics
> See images from the conference.

---

LOCATION:
Loyola University, Chicago, Illinois
DATE:
May 10 - 11, 2002
TITLE:
Globalisation and Social Justice

In May of 2002 the very first annual conference of the North American GSA was held at Loyola University in Chicago. Jointly sponsored by the GSA and the department of sociology at Loyola University, the conference theme was 'Globalisation and Social Justice'. It proved to be a highly successful event with over fifty papers and workshops, covering a broad spectrum of themes concerning issues of global social justice. The keynote speakers were also excellent and included Leslie Sklair, one of GSA/UK's vice presidents, who played a prominent role at the conference as a whole.

The quality of the papers was extremely high and they generated many hours of intensive and exciting discussion and argument. Academics from an impressively wide range of disciplines and research areas came from far and wide across the United States. However, there were also a number of speakers and participants who were political activists, such as current or former trade union organizers or people presently involved in various fair trade campaigns linked partly to student protests around the campuses of the US.

Despite the clearly focused sense of realism among the conference participants concerning the vast problems of social division, social exclusion and conflict that are currently only too evident in the world at the present time and the anxieties about the quality of world political – and especially American – leadership, an encouraging atmosphere of guarded optimism in relation to the real possibility of increasingly effective alliances and political struggles against global poverty was also quite evident.

It was gratifying to encounter quite a number of GSA members who managed to attend the Chicago conference including three from Britain, one from Canada and three from the USA. One of the key events scheduled at the conference was the inauguration of the North American chapter of the GSA. The first GSA branch or chapter to be established outside the UK. More than twenty people attended this special meeting and after some discussion the new branch was duly set-up. What was particularly encouraging was the number of postgraduate students who were prepared to become involved in helping to establish the new North American branch of the USA and, moreover, presence among these postgraduates and other participants who were people living in the USA but who had strong links with countries in Central America and South East Asia. They quite rightly insisted that right from the outset the new branch must concern itself as deeply as possible with the problems and themes of Southern peoples and countries if be a truly global association are to have any meaning.

From the Global Studies Association Newsletter, Issue 2, July 2002
Paul Kennedy, GSA Secretary
PREVIOUS GSA CONFERENCES
---
New Books:
In an Outpost of the Global Economy: Work and Workers in India's Information
Technology Industry
Edited by Carol Upadhya and A.R. Vasavi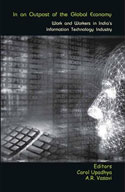 ---
Journals:
Globalizations Special Issue:
Land Grabbing and Global Governance